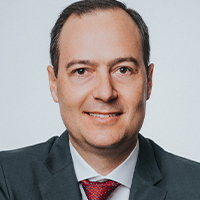 Alexandre Kisslinger
CEO, Portugal Acciona
In 2002 graduated in mechanical engineering from Iowa State University, United States. Two years later, from the same university, received the degree of Master of Science.
Started his career at the Center for Industrial Research and Services, structuring the energy consulting services for the center. Resides since 2006 in Portugal, having initially worked at Siemens as a product manager. Between 2008 and 2020 worked at Martifer Renewables, having various positions and responsibilities, including the areas of business development, project management, asset management, and M&A activities.
Entered ACCIONA Energia in March 2020 to coordinate the activities of the company in Portugal, for both energy production and retail.
<< Back